​ACS offers resources for individuals, community groups, businesses, and health care providers.
Quitting smoking takes time and a plan. On Thursday, Nov. 19, the 45th annual Great American Smokeout offers an opportunity for individuals, community groups, businesses, health care providers, and others to encourage people to make a plan to quit, or begin their smoking cessation effort that day.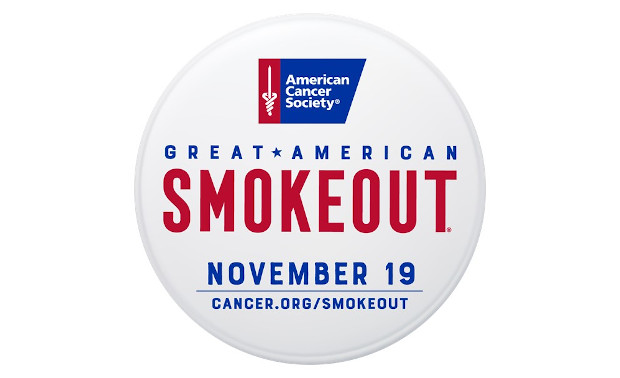 The American Cancer Society offers resources to help staff and volunteers promote this opportunity to health systems, employers, colleges, and community groups. The materials offer tools, guidance, and support to help people make a plan to quit. The following resources are available:
GASO Collection on Brand Toolkit, which features marketing materials, including posters, flyers, ads, badges, and stickers, as well as patient education materials, including materials in English and Spanish that explain the benefits of quitting, the facts about dipping, the dangers of secondhand smoke, and more.
Cancer.org/smokeout landing page, which links to quitting resources and marketing materials.
Tobacco use is the leading cause of preventable death in the U.S. Each year, more than 480,000 Americans die from illnesses caused by smoking. That's about 1 in 5 deaths in the U.S. each year. Cigarette smoking is the leading cause of cancer death in the U.S., accounting for about 30% of all cancer deaths. Smoking is a risk factor for many cancers, including lung, oral, laryngeal, pharyngeal, esophageal, kidney, cervical, liver, bladder, pancreatic, stomach, and colorectal cancers, as well as myeloid leukemias.
While fewer people are smoking cigarettes than several decades ago, about 34.2 million adults in the U.S. smoke cigarettes. Certain populations smoke more heavily or at higher rates. And these populations tend to be people who experience inequities in multiple areas of their lives. The burden of tobacco-associated disease is increasingly concentrated among populations experiencing other health inequities, including insufficient access to tobacco cessation services, lung cancer screening, and high-quality treatment for tobacco-associated cancers.
The CDC lists smoking as one of the conditions that might put a person at an increased risk for severe illness from COVID-19.
For more information, visit Brand Toolkit or cancer.org/smokeout.