​Event pulls in more than $750,000 for ACS.
After a two-year hiatus due to the pandemic, the Delta Jet Drag and Relay For Life event took place on Wednesday, May 4. More than 150 teams competed in the ultimate plane-pulling contest to see who could move a Boeing 757 aircraft 20 feet in the shortest amount of time. More than 55,000 Delta employees, customers, and vendors support the Jet Drag campaign around the world each year. Even Delta CEO Ed Bastian got in on the action, joining the "Hope Thrives" team made up of Delta employees who are cancer survivors and caregivers.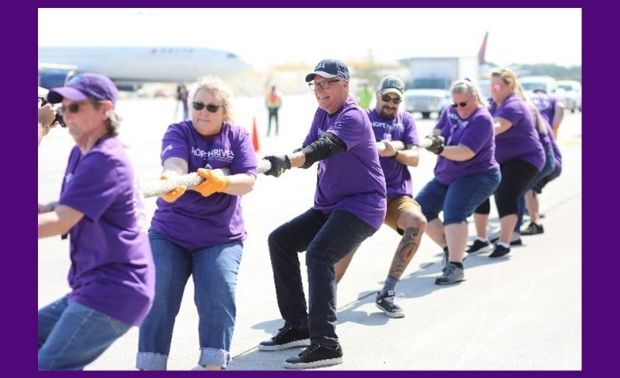 The event was also spotlighted in the news media including the Atlanta Journal-Constitution and CBS 46.
This year marks the 20th anniversary of the partnership between the American Cancer Society and Delta Air Lines. Team ACS had a strong showing at the Jet Drag, snagging first place in the Corporate Division with a pull time of just 12 seconds. Several Atlanta-based staff leaders were onsite to join the pull and show their support including Kimberly Wright, executive vice president for the Southeast Region; Chuck Westbrook, senior vice president of cancer support programs and services; Brant Woodward, senior executive vice president of field operations; and Dr. Arif Kamal, chief patient officer, who spoke at the opening ceremony before rolling up his sleeves on the runway. This year, the Jet Drag and corporate Relay event raised more than $750,000 for ACS.
When teams weren't flexing their muscles in the Jet Drag, they were Relaying in hangar 10 of Atlanta's Hartsfield-Jackson International Airport, where Delta's corporate Relay For Life event also took place. The event is the largest corporate Relay in the U.S. Delta's amazing support will continue, as more than 100 airports plan to host Relay For Life fundraisers and awareness events around the world (domestically and internationally) during the Delta Day of Hope, which connects Delta customers and other airport visitors with an opportunity to support lifesaving cancer research, education, and patient programs and services. To date, the airline has raised more than $16 million for the American Cancer Society.